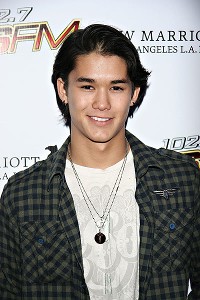 Tommaso Boddi/FilmMagic
Booboo Stewart won the Junior Martial Arts
World Championship in 2002 and 2003.
Never did he imagine things would happen so quickly.
Booboo Stewart may play a wolf on screen, but he moves like a ninja in real life.
The 17-year-old jack-of-all-trades stars as Seth Clearwater in "Breaking Dawn," the latest installment of the "Twilight" series. After hanging around his father, a stunt coordinator, on sets when he was younger, Stewart became hooked. At age 10, he did his first stunt, playing a little Indian boy who got hit over the head with a tomahawk. That's when he knew he wanted to get into the business.
"Yeah, it's crazy," Stewart said. "'Twilight' has been such a major thing for my career. I just got back from a premiere in Denmark, and after that night, I thought, 'Oh my gosh, this is insane. Being part of 'Twilight' is amazing. So many people are trying to do what I'm doing right now, it's really an awesome feeling."
"Awesome" only begins to describes Stewart's talents. Save his on-screen chops as a wolf, he plays guitar and sings in a band with his two sisters which got a record deal with Walt Disney records, and he'll star as Nick Young, a teenager with Asperger's Syndrome in the 2012 film "White Frog."
CGI took care of the fighting sequences in "Twilight," but Stewart could have probably held his own pretty well. He won the Junior Martial Arts World Championship in 2002 and 2003, but is fairly humble about his days wielding weapons and sparring.
"I don't really bring it up, people just find out. I just think it's cool," Stewart said. "They think it's crazy, it's so crazy to be a World Champion so young. I don't know what I really think about it. It's just … it's a really neat thing to do, so hopefully I can return to it one day."
source